'Metamorphoses: In Rodin's Studio' at the Musée des beaux-arts in Montréal (iPhone 5s pics)
It wasn't the finished bronzes that were of interest, rather the plasters, the drawings, the assemblages of pieces of broken or 'unfinished' sculptures into new sculptures, the photographs, the way Rodin composed prior to.... that drew me to Montréal this week to see 'Metamorphoses: In Rodin's Studio' before it ends this Sunday (Oct 18) at the
Musée des beaux-arts
.
One of my favourites was a Walking Man (Rodin did a few), an assemblage of a torso from an older, unfinished John the Baptist sculpture and his legs from yet another sculpture, both joined without polishing and finishing the upper to match the lower. I sketched it while at the gallery, photographed and videoed it numerous times.
Before I went to Montréal, I purchased (and read)
the catalogue through Indigo Books
. Though quite expensive, the book is stunningly illustrated with many full page photographs from Rodin's studio taken by his photographers, and will only add to your library of beloved art books.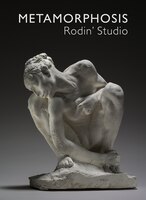 August Rodin (1840–1917) completely revitalized the very language of sculpture with his passion for the creative act. The ongoing interplay of accident and chance in his fragile plasters, bronzes, marble figures, drawings, watercolors, and photographs speak to an endless flow of creation. Rodin's "studio," however, must be understood as the small artistic community that worked for and around the master. It consisted of practitioners of specific trades to whom we owe the transformation of one material to another, one dimension to another, under Rodin's attentive guidance. This book, which accompanies a major traveling exhibition, sheds light on the sculptor's process and takes stock of his prodigious creativity. It also features masterpieces like the 200 or so figures fleeing in
The Gates of Hell
, a work Rodin would draw from for the rest of his career, and
The Walking Man
.
___